The goal of pediatric dentistry is to prevent and treat oral diseases in such a way that the future adult will have the perfect smile and the best oral health through the right relationship with their dentist.
Since each patient is unique, our team of doctors are committed to tailoring treatment plans to fit each child's individual needs.
Depending on the type of treatment, our experienced dentists apply appropriate psychological techniques to ensure our patients' comfort and prevent dentist-phobic behaviors.
TREATMENT OF DENTAL DISEASES
The most common tooth diseases, tooth decay and gingivitis, start following the appearance of teeth in the mouth.
Therapeutic dentistry for children and adolescents helps improve the appearance and overall health of a child/adolescent's smile caused by dental disease, injury, or other causes. It is important to seek appropriate treatment and restoration for your child's lost or infected teeth to prevent further dental or orthodontic problems or difficulties in chewing or speaking.
A child with untreated baby teeth will develop into an adult with dental problems.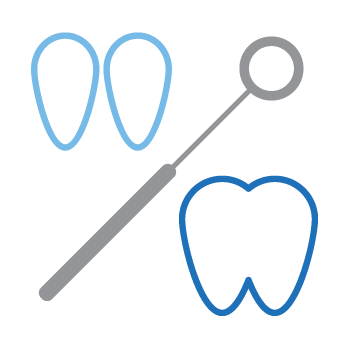 How do teeth decay? What are caries and gingivitis?
Dental caries is the most common infectious disease of children in the world. It is a multifactorial disease. It is caused by microbes that break down the carbohydrates in food (all foods, not just sweet foods!) and produce acids. When these acids are left on the tooth for about 20 minutes, they start to degrade the hard surface (enamel) of the tooth. Gradually a small microbial pathway is formed which after such repeated acid "attacks" develops into a cavity (hole) or caries. Different individuals can have different reactions to acid "attacks" due to several factors in addition to microbes and carbohydrates, such as the quantity and quality of saliva, the morphology and quality of the tooth, etc.
The role of microbes in the caries process is decisive. Caries is an infectious and contagious disease. For the child's teeth to "go bad", the presence of microbes in the child's mouth is necessary.
Oral germs are transmitted to the child by people in the immediate family environment (mom, dad, grandma, nanny…) during the first years of life. The transmission of these germs occurs through adult saliva: when we use the same utensils as the baby (cups, spoons, etc.), when we blow the baby's food to cool, when we put the pacifier in our mouth to clean it! when we kiss the baby.
In our practice, in very special cases of patients with high caries index, we use microbiological tests to detect these pathogens. When these microbes infiltrate the gums, they can cause diseases of the gums and the bone that supports the teeth such as gingivitis. Gingivitis is the inflammation of the gums that occurs when the teeth are not cleaned, and microbes collect on and in the gums. Gingivitis is manifested by swelling, redness, and bleeding of the gums, both in childhood and adulthood.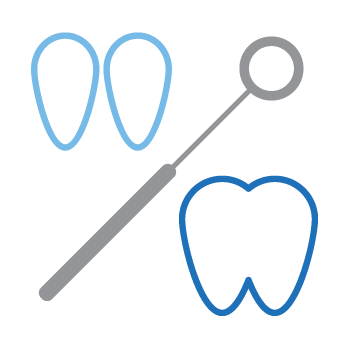 What is early childhood caries (or baby bottle syndrome or breastfeeding caries)
If your baby is restless and you give them often a bottle of milk or another drink with sugar or honey, you are contributing to a particularly harmful habit that can cause early childhood caries!
Early childhood caries is a form of tooth decay in babies and children usually younger than 4 years old. It starts as small white lines near the gums or white and yellow spots on the surface of the tooth. Soon these spots develop into dark (brown or black) cavities eventually resulting into tooth substance loss and tooth necrosis in the long-term. The teeth that are affected first are the upper front incisors, the teeth that play such a large role in your child's smile. If the harmful habit continues, back teeth are affected as well.
If you notice any changes in your child's teeth, visit your pediatric dentist to begin an intensive monitoring program.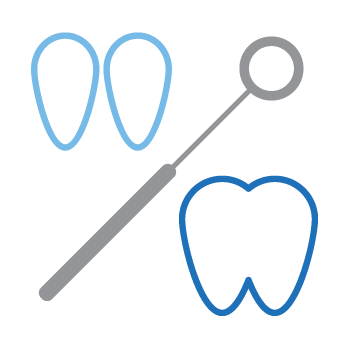 How can I tell if my child has bad teeth?
It is necessary to check your child's teeth from time to time. Very bad teeth (extensive decay) are easy to spot as they will have large black or brown holes/chips. Incipient or smaller cavities are harder to spot, they can be white, pale yellow or brown spots or lines near the gums, on the teeth or on any other surface.
A very common location of cavities in children's teeth is in between, where one tooth touches the other. These areas are very difficult to check with the naked eye even by a dentist. In these cases, when the dentist suspects that one or both adjacent teeth have a problem, she may take a diagnostic x-ray.
Don't hesitate to visit us when you spot any problem with your children's teeth. Remember that frequent recalls ensure that all children's teeth problems are identified and treated.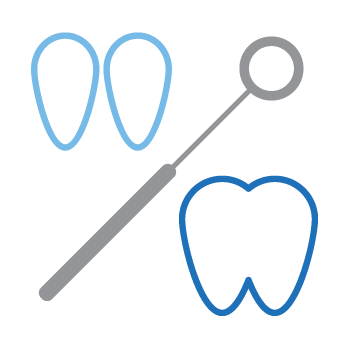 What kind of treatments are there for children's and teenagers' bad teeth?
In general, treatments are tailored to the age of the child, their risk of tooth decay, their oral hygiene, size, and location of the decayed teeth.
Our primary concern during treatment is both the functional and aesthetic restoration of the decayed teeth. We use various types of restorations from simple white fillings with the most sophisticated materials to aesthetic crowns. Silver fillings and silver crowns are treatments of the past that are not part of our treatment protocols.
If extensive decay has reached the nerve of the tooth, then the treatments we follow (pulpotomy, root canal) are aimed at keeping the tooth in the mouth. In cases of teeth which cannot be saved and must be extracted several times it is advisable to place an orthodontic space maintainer.
Help us lay the right foundations early on.
Email: info@pediatricdentist.gr
Monday – Friday :
12:00-20:00